North Missouri Arts Council Presents
Orr Street Studios Showcase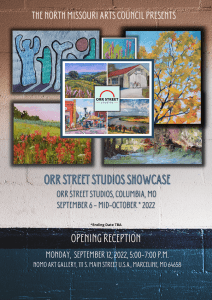 Please join us Monday September 12, 2022 from 5-7pm at the gallery for a reception for the Columbia artists of the Orr Street Studio. It's a great show, and we'd love to give them a warm reception from Marceline.
On August 27, NOMO Gallery will participate in the 10th Annual Wine & Art Stroll in downtown Marceline.
  
Attached you will find the prospectus for Paint Marceline an all-day event that culminates with several significant prizes.  We hope to see you here — again, if you've attended in the past, or for the first time ever!
The Prospectus has been updated 08/05/2022.